Infinergy®(E-TPU) is Empowering Movement
We are accelerating with the world's first expanded thermoplastic polyurethane (E-TPU). With Infinergy®, we help game changers and go-getters move ahead in life. We empower workers to move like athletes, children to play more safely and athletes to perform at their best.
Infinergy® provides superior energy return while delivering a lightweight, high strength alternative. Infinergy® adds next-level comfort and flexibility in a variety of applications ranging from footwear to flooring to sports equipment.
Check out the all new Infinergy® Virtual Showroom 
Infinergy® - Go Beyond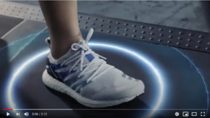 Infinergy® empowers innovation in everyday solution
How can Infinergy® benefit you?
Like its base material TPU, Infinergy® is noted for having high elongation at break, high tensile strength and strong abrasion resistance. In addition, the innovative particle foam remains highly elastic and soft over a wide temperature range. It is also made out of material that has good chemical resistance.
The feature of Infinergy®'s that is particularly striking is its high resilience.
Tests of its resilience elasticity under ISO 8307 (the ball rebound test) show that Infinergy® achieves a rebound of over 57 %. This is therefore significantly higher than comparable particle foams such as expanded polypropylene (EPP) at 30 %, ethylene vinyl acetate (EVA) at 37 % or  expanded polyethylene (EPE) at 50 %. Infinergy® maintains its excellent resilience even under a continuous load.
Measuring the rebound according to DIN 53512 (using a defined pendulum hammer), a rebound value of at least 57 to 75 % is achieved. Dynamic mechanical analysis has shown that, even at extremely low temperatures of -20°C (-4°F), Infinergy® still has a low dynamic modulus, is very soft and stretchy and thus does not go stiff.
Infinergy® 32-100 U10 is processed on the usual commercial steam chest molding machines designed for a minimum steam chamber pressure of 5 bar. 
Steam pressures are typically 0.6 – 2.2bar, depending on the Infinergy® grade as well as part geometry and density. Infinergy® 32-100 U10 is processed by either crack filling or pressure filling, so part densities of 200kg/m3 to about 300kg/m3 are achievable depending on the degree of packing. Infinergy® can also be processed by molding technologies not using steam e.g. high frequency and variotherm molding.
In addition, because polyurethanebinders adhere so well to Infinergy®, processing techniques such as gluingand foam sealing of the beads enables large-scale processing of Infinergy®.
Converters can process panelsmade from Infinergy® on conventional splitting machines, punches and water jet cutting machines.
Infinergy® is compliant with the RoHS directive and does not have to be labeled under dangerous goods regulations.
Information on other regulations, e. g. GADSL, will be provided on request.
Infinergy® is also recyclable.
Tailor-made Solutions
Tailor-made for individual needs: We support our customers in developing application-oriented solutions.